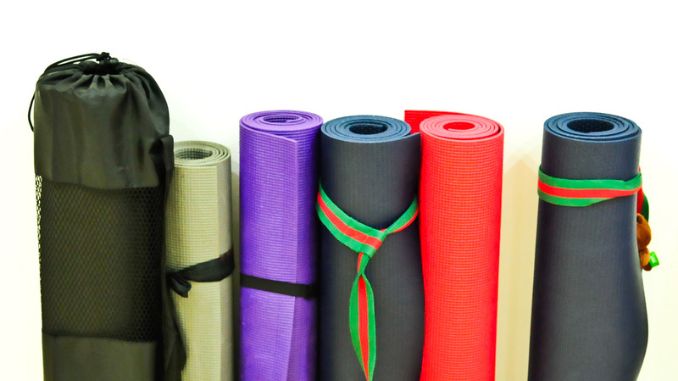 How to Choose a Yoga Mat: 12 Things You Need to Know
With so many considerations, choosing the right yoga mat can feel like a test in patience and perseverance. But thankfully, it doesn't have to be that complicated. Whether you're a seasoned yogi or a beginner, your yoga mat should be comfortable and easy to maintain. We spent one month talking to more than a dozen yoga instructors and sweating, stretching and savasana-ing it out in our offices, homes and yoga studios to find the very best mat. Read on for useful tips about how to choose a yoga mat.
The type of yoga mat you choose should be comfortable and easy to clean, no matter how experienced you are or how much you sweat or stretch during your sessions. We spoke with over a dozen yoga teachers and exercised in our offices, homes, and yoga studios to find the best mat for you.
How We Determined the Best Yoga Mat
1. Stability
A decent yoga mat must be sufficiently dense to provide a stable foundation, whilst simultaneously being sufficiently squishy to take some of the pressure off your joints. While you can stand on a too-stiff mat for eternity, you may damage your joints if you stand on a too-soft mat for too long, beginners, pregnant yogis, and those with damaged joints should avoid excessively soft mats. Thicker mats provide more support and are better for beginners, pregnant yogis, and those with damaged joints. Those who commute or travel a lot may prefer thinner mats that are easier to roll up and carry.
2. Non-slip
Is your mat slipping around on slick floors, or are you staying put during warrior pose in your yoga class? "Grippiness" is a mat's ability to stick to your feet and hands, as well as its ability to stay in place on the floor. If you're taking a hot yoga class, you need to make certain that your mat sticks to the ground.
3. Keeping
We wanted to guarantee that our top choices would be simple to clean and tough. Open-cell mat surfaces were grippy but difficult to clean since they absorbed everything like a huge sponge. Mats with slippery, smooth surfaces are simple to clean but perhaps harder to keep clean. A mat that's just grippy enough but doesn't retain dirt and debris is ideal.
4. Hype
With so many mats vying for attention, we sought out the ones that were most in demand—from longtime favorites like the Manduka PRO to newer releases like the Alo Yoga Warrior Mat. We sifted through numerous "best-of," "bestselling," and "top-rated" rankings, asked more than 30 yoga instructors for their thoughts, and analyzed queries and requests from our yoga-loving readers.
Finding a Good Yoga Mat for You
5. Look for Good Materials
Stickiness, durability, comfort, texture, and whether a yoga mat is environmentally friendly or not all depend on the material it's made from. Polyvinyl chloride (PVC), which is both inexpensive and durable, might be toxic if manufactured with it, whereas eco-friendly materials, which are both toxin-free and more sustainable, tend to be more expensive and wear out more quickly.
6. Choose the Right Size
According to Amira Freidson, an instructor, a typical yoga mat is 68 inches long—just long enough for a person who is 5'8''. Ensure that your whole body fits on the mat while lying face up with your head facing the ceiling. Although there are no benefits to using a too-small mat, extra-large mats might be beneficial for working on your flexibility. According to Giovanna Abraham, "For more experienced yogis who have been practicing for 2 to 5 years, a longer mat would be helpful — for instance, in giving them greater space to extend deeper into their poses."
7. Think Handy
Even if you have the world's grippiest and most comfortable yoga mat, lugging it around to and from class can still be a real pain. If you plan on commuting with your mat, you may want to look for one that is lighter or comes with a carrying case. If your mat doesn't come with a carrying case, expect to pay extra for it. Weight and thickness are also critical. Due to their larger size and weight, heavier and bulkier mats will be a bit more difficult to travel with than thinner, lighter ones.
8. Select a Price Range to Choose From
There are many considerations to make when purchasing a yoga mat, including price. If you're a new yogi, you may prefer a mat that is less expensive and has fewer frills. The initial cost of a more expensive mat might outweigh its longevity, so be sure to consider that as well. All of our top picks are durable and will withstand a lot of wear over many classes, so spending more money upfront might help you avoid having to buy a cheaper mat later.
Yoga Mat FAQs
9. What is the right thickness for a yoga mat?
A regular yoga mat measures 4 to 5 millimeters thick. A travel mat is typically 3 millimeters or less, and thick mats are 6 to 9 millimeters thick. Your preferred yoga type may help you determine which mat thickness is right for you. Jane Witzenburg, an instructor, advises, "If you are doing a lot of lunges, use a thicker mat. If you are doing more balancing postures, use a thinner mat."
10. What Is PVC-free?
Given its slip-resistant properties, durability, and ability to provide the most "give," PVC is a common material in yoga mats. Because we don't want to go into too much detail here, we'll just say that phthalates — substances that have been associated with health problems and adverse environmental impacts — are present in PVC.
11. How Should You Clean a Yoga Mat?
Avoid using abrasive sponges when cleaning your yoga mat to prevent staining and build-up. Clean your mat at least once a week to prevent build-up and staining. Use water and gentle cleansers like lemon juice or dish soap. Wipe away excess moisture and allow your mat to dry in a location away from direct sunlight or high temperatures, which can expedite the breakdown of natural materials like rubber. Check your mat manufacturer's care directions if you're not sure.
12. Is it necessary to use a yoga mat towel?
Yoga or "hot yoga" classes. A premium, nonstick yoga mat should prevent you from slipping, even in the most sizzling conditions. You may also benefit from a towel to wipe the sweat off your face and body during class. Yoga mat towels are beneficial for individuals who slip on their mats, particularly in Bikram.